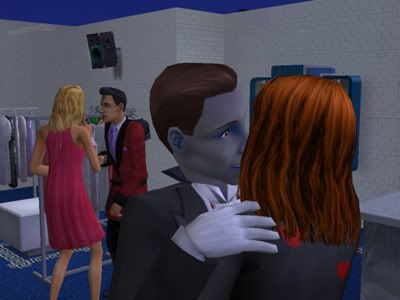 After Mortimer died Dina shed a tear, then set about thinking how to fulfill her 'marry a rich sim' wish.
On a visit to the local boutique who else should show up but Mr Big himself, he's called Marcus in this version.
Dina wants to become a Criminal Mastermind, I found her job straight away.
Nina wants to Woohoo with 20 sims, she'd better get cracking , so far her count is 1 (Don's hot tub, remember?). She wanted a job in the Slacker field and so her wish was my command.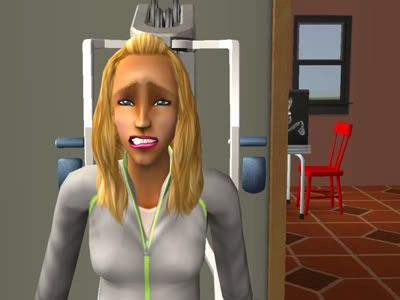 Dina needs to be in good shape for her career, but she's very lazy and hates working out. (heh, me too Dina). Hopefully when she gets 3 skills she will do yoga and won't complain so much.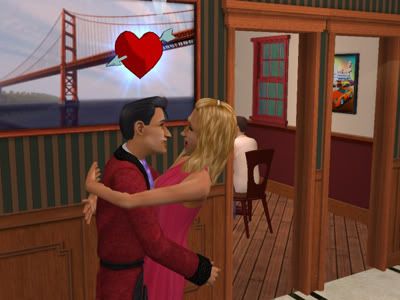 Meantime she accepted an outing with Marcus and she soon had him under her spell.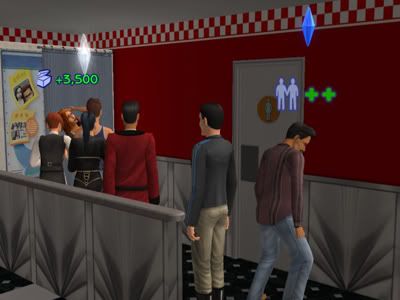 Nina was a bit harder to please in the first couple of days because she kept wanting to skill, what's that about Romance sim?!
So when public woohoo came up she invited Don out. She just loves attracting attention. She did meet a few new people though and spent a couple of days wanting (and succeeding) in making friends with them.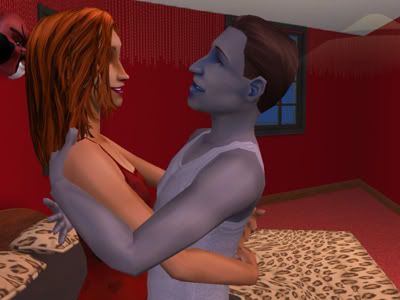 There was the Count, who came around after Nina finished her shift at the garage.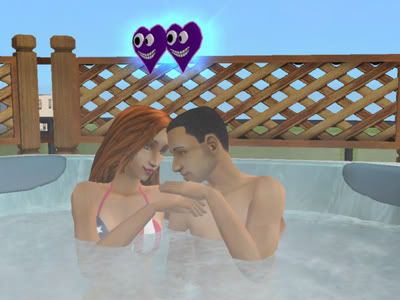 Then this guy, a friendly townie.
(I must write down these guy's names!)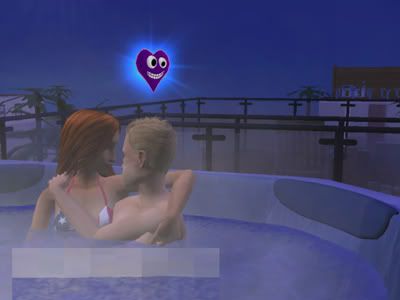 Ah, this is Shea, something or other.
He gave Nina a good date.
Dina has been robbed fellow bloggers! She did not fulfill her wish to marry a rich sim! What?!! Marcus brought 70,950 simoleons to the marriage! ack.
I don't know why Dina didn't fulfil that wish, she won't now obviously.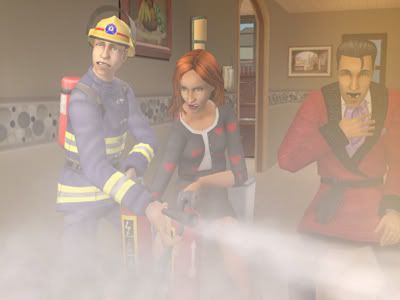 Magnus is a Fortune sim with a LTW to be the top of the Medical field. It hasn't come up yet but his funds have come in handy to refurbish the house. He can't cook and set fire to the kitchen, luckily Nina was on hand, or perhaps she was trying to impress the fireman, who knows?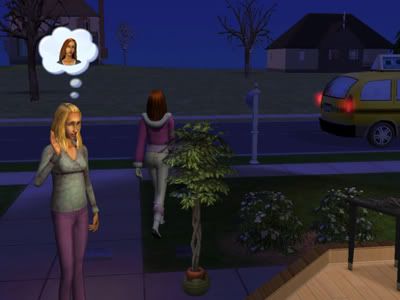 Nina decided the house was going to get crowded and so (with a few helpful backpack items donated by her new brother-in-law) she is moving to her own place. I'll blog her after Dina each time from the next round.
Summary;
Dina had wants to buy stuff, to skill for promotions and make necessary friends. She also had a want to buy a toy crafting table and so has just started on that. After marrying Magnus they both had wants for a baby so that's locked in and on the way, ;) She's currently a Con Artist.
Nina went on 5 dates, 2 with Don. She is a Home Video Editor. I've never seen a romance sim want to skill so much!
Magnus only moved in on Saturday, his wants on Sunday were to get fit, buy stuff, kiss Dina. He's still a Professional Party Guest until the Medical field comes up.