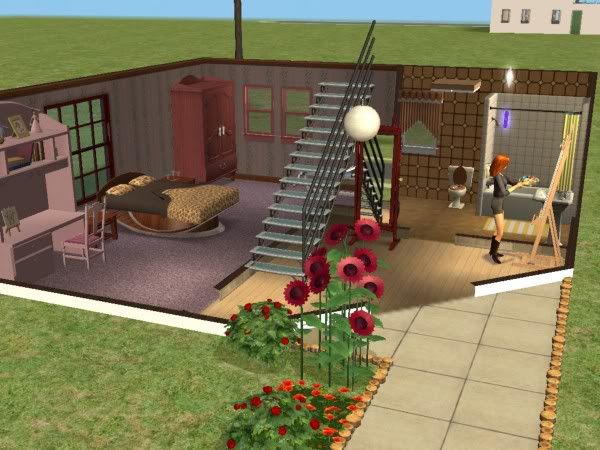 If you remember last round Nina had just moved to her own place, and here it is. It's one of the cheaper pre-made homes and I remodelled it a little to suit Nina.
I figured a bedroom downstairs would be quite useful for her, um, exploits.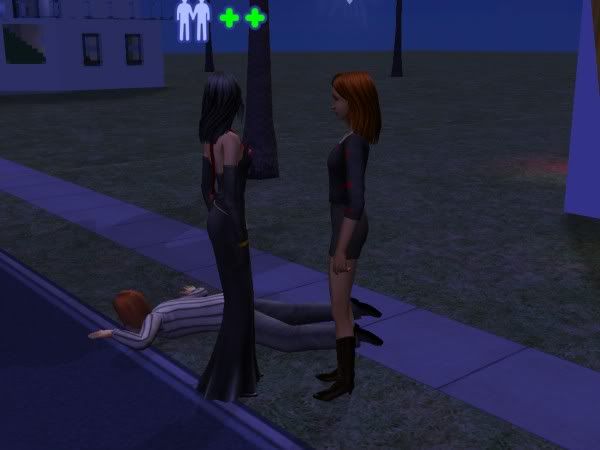 So after Nina's first shift in the new place she bought home The Diva, who then offered to fix her up on a blind date, and it was Komei Tellerman who is the lucky guy for the night.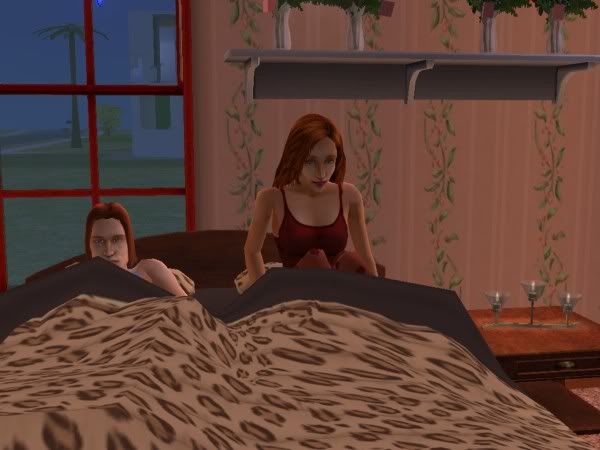 Suffice it to say, the date was pretty dreamy.
Next up Nina had a want for public woohoo which her friend Nery obliged to, it's really something that my romance sims haven't been caught out yet!
Nina took each opportunity to fulfil her 'meet someone new' wants, and it was usually guys who turned up. Here she meets Sheldon and the townie Phil.
Nina had a want to buy a hot tub
but couldn't afford it. I was happily surprised that her wish was fulfilled by getting the aspiration love tub instead. Looks like Sheldon enjoyed it too, :)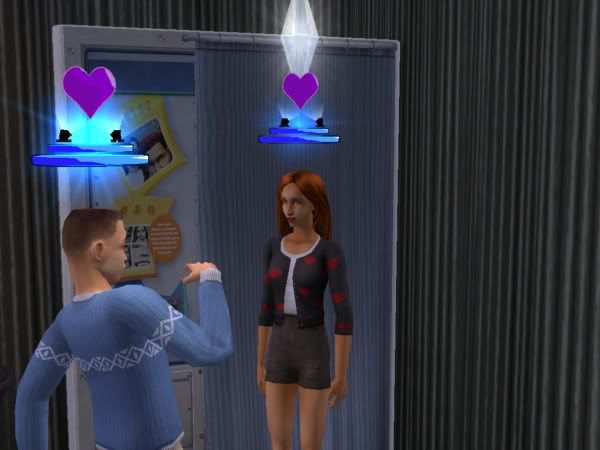 This is Seth, he's actually a student in the dorm with the Pleasantview kids. Doesn't seem to bother Nina though!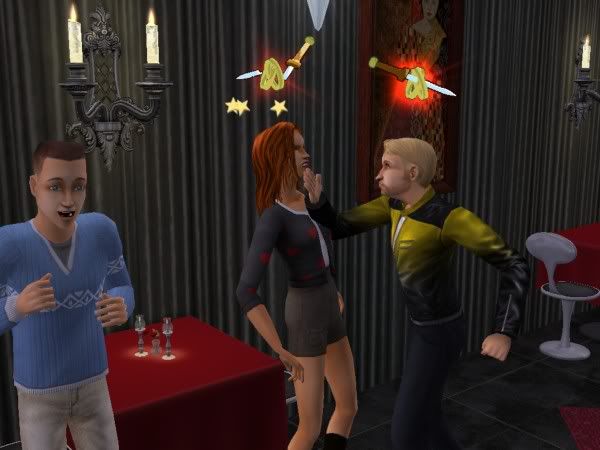 Oops! Nina had met and flirted with so many guys she kind of forgot that Phil here was one of them. They hadn't even been on a date yet but he was mad!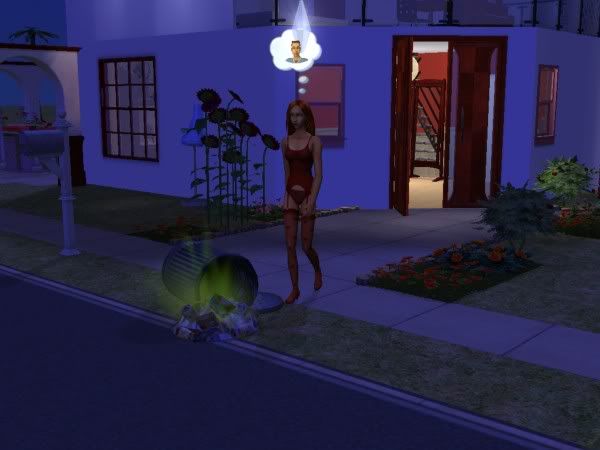 So much so that he spent the next few days not only kicking over the trash can, but stealing the newspaper too!
Nina had her next dream date with Leo the Gardener. She now has a want to be in love with 10 sims so that's locked in.
She's still working on her career and friends though, and thought it'd be cool to introduce Brandi Broke to her new maid Remington. I guess they didn't hit it off though.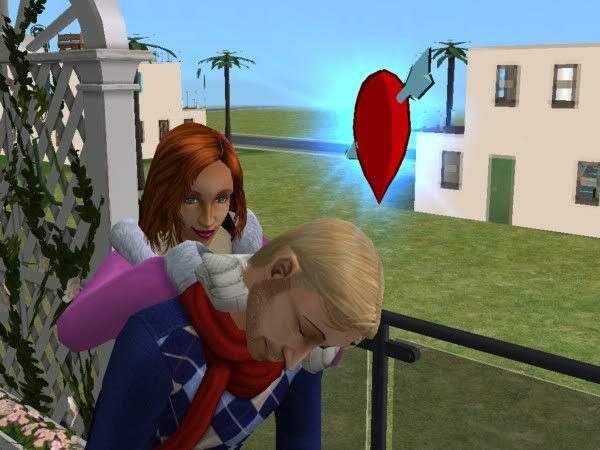 Finally after lots of apologies Phil forgave Nina and fell under her spell.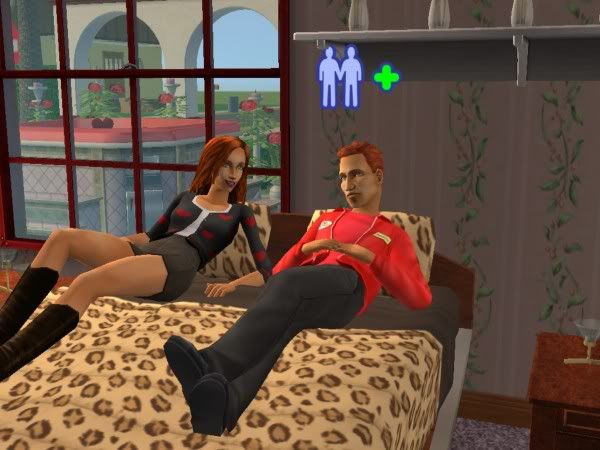 Nina decided to go with the 'other' Remington.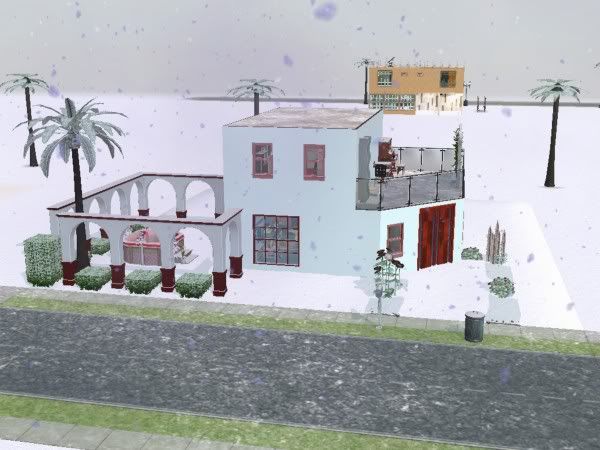 It may be cold outside, but it's hot inside Nina's little love nest!
Summary:- Most days Nina wished to meet someone new. That was easy as I used the aspiration benefits that encourage walkby's.
She wanted dates and skills (yes- still!) and currently has reach top of career locked in.
Funnily enough after woohooing with about 5 sims, each subsequent date she spun the wish to 'marry so-and-so'. While the idea of marriage isn't abhorrent to me for her, I really want her to get her 'woohoo 20 sims' first. Watch this space.
Any picture you want to see blown up, just click on it. :)